ACADEMIC AFFAIRS: LEARNING SERVICES
Thank you to our OMS II tutors Emmanuel, Odette, Taylor, and Zoe! Make sure to utilize their services throughout the fall. (Email Crissi to schedule a tutoring session or ask questions.)
You will no longer be required to check in every day. You will need to reserve pods through Skedda, but you don't need to check in (at the front desk or when you're in a pod).
Upcoming faculty and peer tutoring sessions:
Th, Aug 4; 12–1p: Anki Basics w/ Taylor Arren
Mon, Aug 15; 12–1p: Neuro tutoring review w/ 2025 tutors
Mon, Aug 29; 12–1p: Neuro tutoring review w/ 2025 tutors
(Links to tutoring sessions will be posted the morning of in Pronto.)
RESEARCH
The eagerly-awaited Research House Sorting Day is nearly upon us. Please arrive at the Provo Rec Center multi-purpose room at 6 p.m. on August 10. We'll eat dinner, sort first years into houses, and play games (Giant Jenga, Jackbox games, and more). If you are unable to attend, email Analane Powell.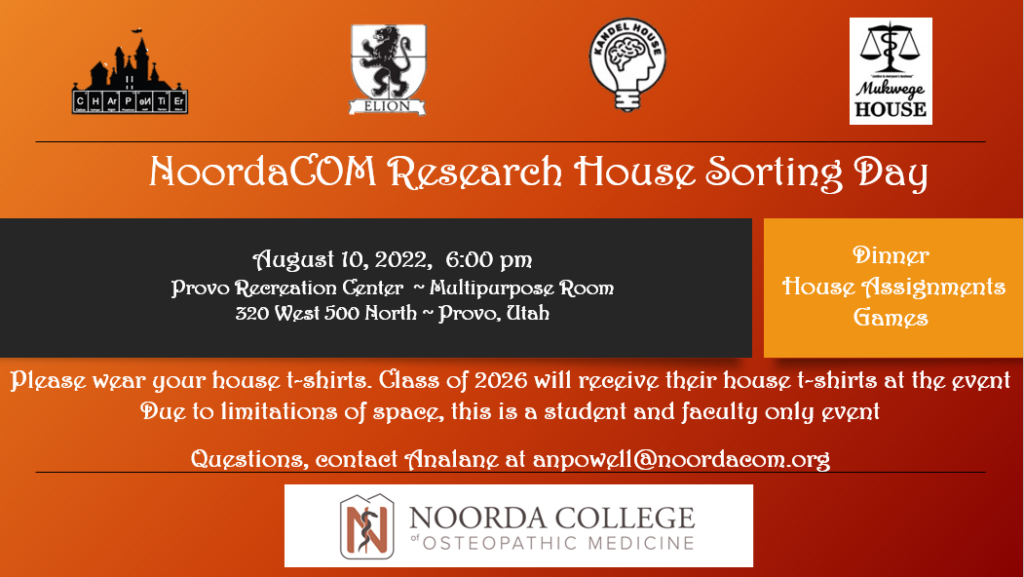 Join Journal Club for their first meeting on August 29 at 5 p.m. Journal Club attendance is required for those in Research Track; Kandel House will be hosting this month's meeting.
CLINICAL AFFAIRS
Thank you for your patience. There were some login and timing issues, but it sounds like the preceptors are very impressed with your notes and work – keep up that momentum!
Also, please enable notifications on your Microsoft Teams LCM page. Specifically, turn on notifications linked to your assigned preceptor.
You can pick up your Intermountain badge and time card at the front offices of Building 5, where Student Affairs used to reside.
Problems? Questions? With any issues, reach out (first) to your Clinical Coordinator. (Your Clinical Coordinator's name can be found in your Teams group page under "Files and Information Sheet.") Or, swing by for office hours! We've loved chatting with you over the last week.

There's an upcoming networking event with BIPOC healthcare professionals. UVU is hosting an interprofessional dinner on August 24, 5–7p.m. All students of color are welcome to attend; RSVP to Dr. Akunyili through email by Sunday evening.
STUDENT AFFAIRS
Attention all club officers: RSVP and attend our Lunch and Learn on Monday, August 8 in the Building 5 Conference Room to go over club budget tracking and event planning.
Enjoy Utah Valley nature. Sign up to go on hikes with the Wilderness Medicine Interest Group! Hikes occur every week through August and September.
Interested in neurology and psychiatry? Attend the Neuro/Psych Interest Group Meeting on Wednesday, August 10 at noon in the main area of Building 1.
The link to submit an excused absence request has changed; if you bookmarked it, please update it with this new link.
FACILITIES
If you're the first person to reserve a pod through Skedda, please include your class year in the title of your pod reservation. (This prevents students from accidentally mixing cohorts and having different curricula to complete.)
For printing requests, email Dana; pick up is in the lobby of Building 1.
Faculty and staff are moving into the north side of Building 4 floor. You can use the second floor (south side) study carols at any time, or the first floor testing center carols (except on exam days). Study carols are first-come, first-serve basis. You can't leave personal belongings to claim a spot.
Building 4's hours will be extended soon for students' use.