ACADEMIC AFFAIRS
There's a lot to look forward to. Our academic calendar has been updated–click here to see the new dates for reviews, finals, and events!
You will no longer be required to check in every day. When cycle 2/your assigned pod times end, you will need to reserve pods through Skedda, but you don't need to check in at the front desk.
OMS I Review Session for Thursday, August 11:
Dr. Ramana: 8–10:20a
Bathroom break: 10:20–10:30a
Clinical: 10:30–11a
Dr. Payne: 11–11:30a
ACADEMIC AFFAIRS: LEARNING SERVICES
Reminder: your pod times will be assigned through the first two cycles (until August 24.) After August 24, you will sign up in Skedda for your desired pod and time. Please use booking titles to label your year and describe your purpose for using the pod. (Examples: "COM 2026 – Watch videos first." "COM 2026 – Watching videos together," etc.) Pods can be booked for 6–9a, 9a–12p, 1–4p, or 4–7p.

We have FOM tutors for the fall! Email Crissi Stokes to schedule a session with Maria, Steve, Odette, or Steven. There are also group tutoring sessions, and, beginning August 15, a tutor will be available in Building 4 Pod 3 to host a facilitated pod or offer drop-in tutoring. (The tutor will be available from either 9a–12p or 1–4p.)

Upcoming faculty and peer tutoring sessions:
F, Aug 12; 1–2p: FOM w/ Dr. Ramana
F, Aug 19; 1–2p: FOM w/ Dr. Nuebel
F, Aug 26; 1–2p: FOM w/ Dr. Nuebel
T, Sept 6; 12–1p: FOM review w/ tutors
(Links to tutoring sessions will be posted the morning of in Pronto.
RESEARCH
The eagerly-awaited Research House Sorting Day is nearly upon us. Please arrive at the Provo Rec Center multi-purpose room at 6 p.m. on August 10. We'll eat dinner, sort first years into houses, and play games (Giant Jenga, Jackbox games, and more). If you are unable to attend, email Analane Powell.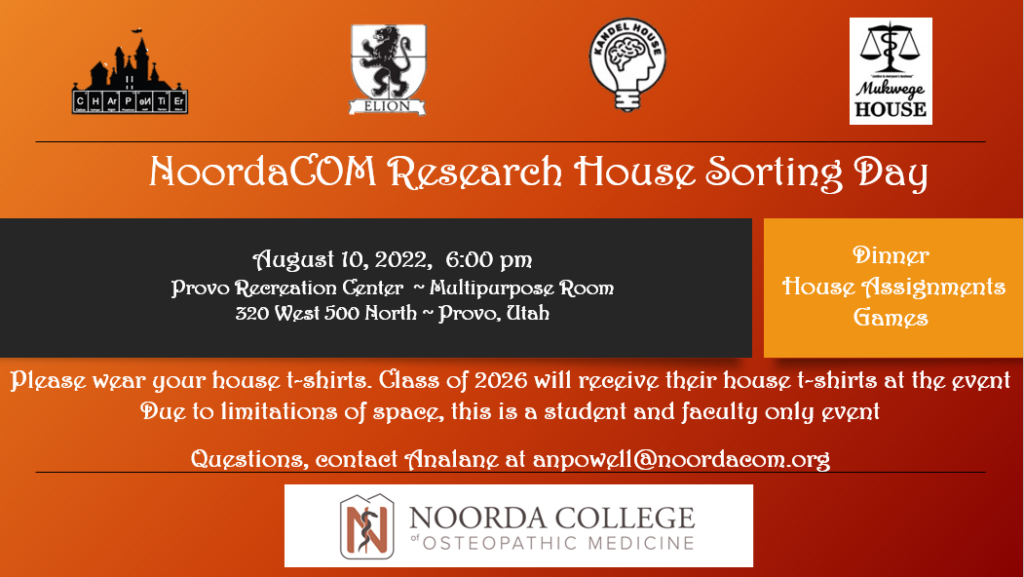 Join Journal Club for their first meeting on August 29 at 5 p.m. Journal Club attendance is required for those in Research Track; Kandel House will be hosting this month's meeting.
CLINICAL AFFAIRS
Mark your calendars for September IPE speed dating. This interprofessional "speed dating" event on September 14 is mandatory. Go to eNCOMpass and register for one of the two groups available. [Group 1] [Group 2]

Network with BIPOC healthcare professionals. UVU is hosting an interprofessional dinner on August 24, 5–7p.m. All students of color are welcome to attend; RSVP to Dr. Akunyili through email by Sunday evening.

The health insurance card deadline has been extended. If you haven't received your insurance card before August 15, don't worry – the deadline has been extended to September 1.

There's answers to your questions. Clinical Affairs office hours are every Tuesday and Wednesday from1–2 p.m. in the main room of Building 1. 

For questions about…
– Third/fourth year calendars, researching residencies, or application process(es) and items: visit during office hours
– Clinicals (credentialing for research with an outside preceptor; rotations, specialty conferences, CiM, outside healthcare affiliations, etc.): email clined@noordacom.org
– Immunizations or EXXAT issues: email studenthealth@admin
FACILTIES
If you're the first person to reserve a pod through Skedda, please include your class year in the title of your pod reservation. (This prevents students from accidentally mixing cohorts and having different curricula to complete.)
For printing requests, email Dana; pick up is in the lobby of Building 1.

Faculty and staff are moving into the north side of Building 4 floor. You can use the second floor (south side) study carols at any time, or the first floor testing center carols (except on exam days). Study carols are first-come, first-serve basis. You can't leave personal belongings to claim a spot.

Building 4's hours will be extended soon for students' use.
STUDENT AFFAIRS
Enjoy Utah Valley nature. Sign up to go on hikes with the Wilderness Medicine Interest Group! Hikes occur every week through August and September.

Learn more about the MBA program. UVU will be coming to campus on August 22 to lead an info session on the MBA program. (Stay tuned for an RSVP link/more details.)

Get your white coat replaced. If you didn't receive the correct size during Orientation Week, please email Cary Beasley with your preferred size. (You will need to return your initially-assigned white coat, clean and unaltered.)