STUDENT AFFAIRS
Learn more about suicide prevention resources. September is National Suicide Prevention month. In addition to NAMI and NPSA, your Student Government leaders have prepared several infographics about prevention steps and mental health resources.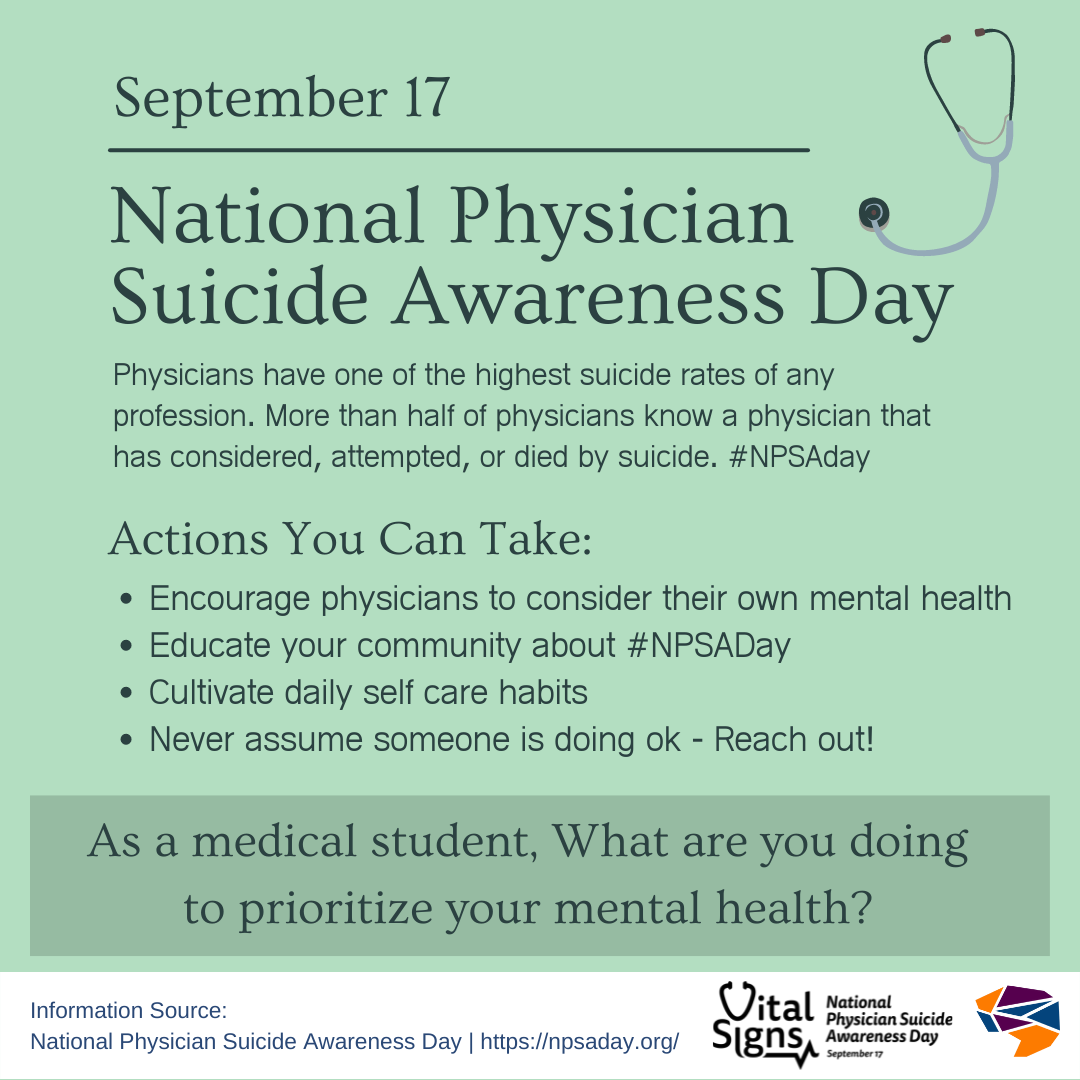 Purchase a Breast Cancer Awareness shirt. October is Breast Cancer Awareness month, stay tuned for an email with more details!
Join the Internal Medicine Interest Group for their Kickoff Luncheon Mixer. Join IMIG for lunch and to fill out a survey on your preferred panel speakers and other activities. Register before Wednesday the 20th at noon (if you register after this deadline, there isn't a guarantee that you'll get lunch).
RESEARCH
Attend Journal Club next week. Charpentier will host Journal Club on Monday, September 26, from 5–6 p.m. in the Building 1 Lecture Hall.
ACADEMIC AFFAIRS
OMS I review schedule for Thursday, September 22:
Post-test review: 8–9a
Dr. Nuebel: 9–10:20a
Bathroom break: 10:20–10:30a
CEPA: 10:30–11a
Dr. Ramana: 11–11:30a

Sign up for your first anatomy lab. Anatomy labs begin next week. Labs are held on Monday and Tuesdays; students must attend one lab session per week. [Register] When attending your lab in Building 3, wear long pants and close-toed shoes.
CLINICAL AFFAIRS
Get your flu shot this week. Flu shots will be offered near the testing center in Building 4. [Register] Available times include:
T, Sept 20: 11a–12:30p
W, Sept 21: 2–3:30p
Th, Sept 22: 11a–12:30p
Be mindful of the expiration dates on your EXXAT documents. It is your responsibility to upload the new documentation by the expiration date. This includes regularly updating your auto insurance, receiving a new TB test; if you are in the process of a Hep. B series, and etc. If you have any questions, please email studenthealth@noordacom.org.
Update your EXXAT flu shot records. After getting your flu shot on-campus or through your provider's office, upload your documentation before November 1.
Sign up for a 10-minute Q&A with Clinical Affairs. Office hours are changing to "Clin Ed Q&A." These quick, 10-minute sessions can answer your questions about networking, application strategies; match data trends, residencies, 3/4th year rotations, and more. [Sign Up]
Check out AAMC. AAMC can help you choose a specialty, and offers other valuable tools.
LEARNING SERVICES
Attend an upcoming tutoring session:
How to Study for CEPA I with Tutors: F, Sept 23; 11a [Join]
Notetaking and Q-Bank Tips with Taylor Briggs: M, Sept 26; 12p [Join]
Dr. Ramana: FOM tutoring; F, Oct 14; 12p
Review with FOM tutors: M, Oct 17; 12p
Attend a drop-in tutoring session in Pod 3 during the following times:
T, Sept 20: 11a–12p
Th, Sept 22: 3–4p
Th, Sept 29: 3–4p
Or, schedule a one-on-one tutoring session through Crissi Stokes.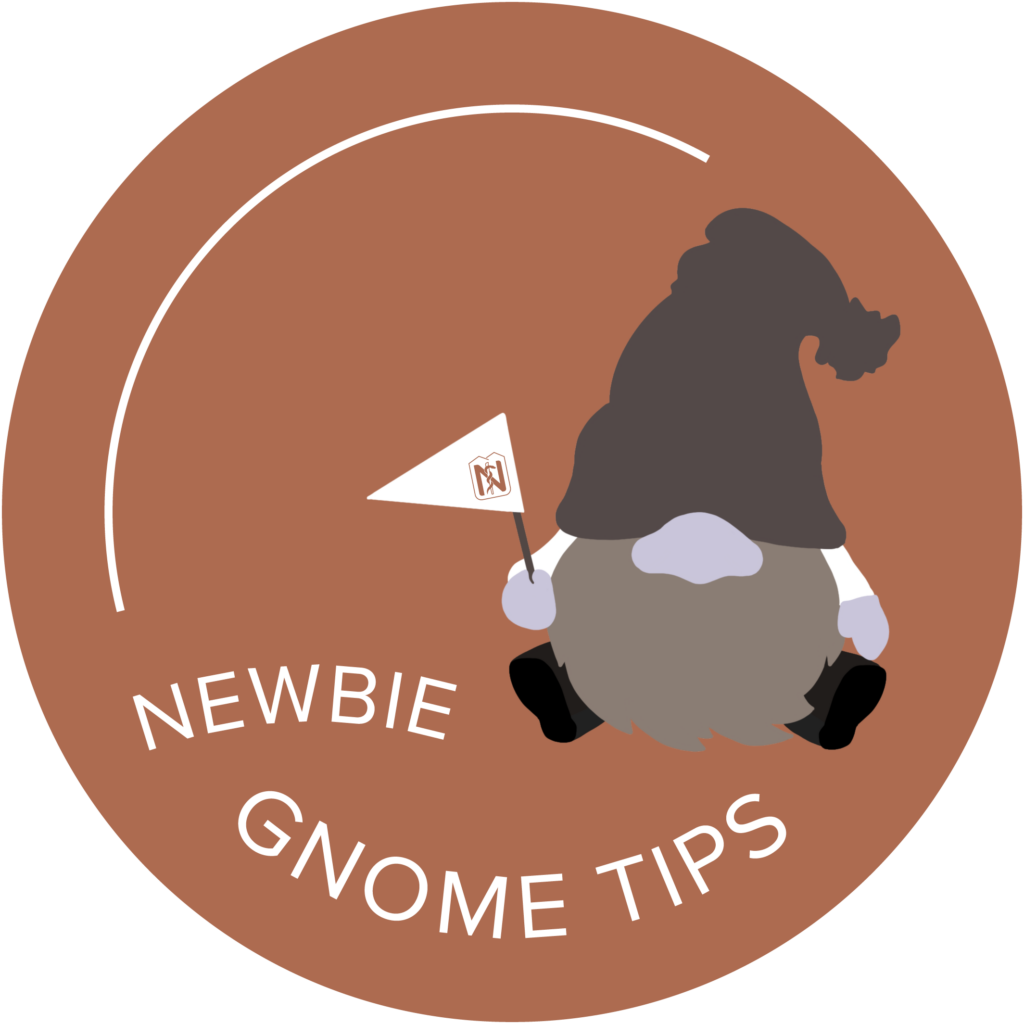 NEWBIE GNOME TIP
There are TVs in Building 4. If you'd like to kick back and watch a show, there are Roku TVs in the (first floor) game room and (second floor) kitchen/lounge. You can use our shared Peacock account or sign into/cast your streaming services to the TV. (Just remember to log out afterward!)
FACILITIES
Parking in the shade may be appealing, but every time you park outside of Noorda-COM delegated parking, you:
Risk getting fined
Take an RMU student's parking spot
Affect the number of stalls at our future campus
Facilities makes daily trips to count the number of occupied parking stalls at Buildings 1, 4, and 5. Please park in our delegated areas. This will ensure that we correctly estimate the number of parking stalls needed at our future campus.

The new pods in Building 4 should be completed later this week. Our new building is making progress too, with finish paint and tile being added on the second-fourth floors of the west side of the building.
These "posts" are a landing page for Noorda-COM student emails. Questions? Contact Jenna Knaupp.