Welcome to Noorda-COM, newbie gnomes!
This is the Noorda-COM Navigator, a once-a-week email with everything you need to know about campus, classes, and all things in-between. (Follow us on Instagram and Facebook to see more photo-filled highlights of life at N-COM.)
Also, because you're new to campus, your class' edition of the Navigator will have an extra section – "Newbie Gnome Tips" – with extra details about Noorda-COM tips and resources. Here's your first tip of the year!
Make life at Noorda-COM a family affair. Invite your friends and family to join The Village – a Facebook group that keeps your support system in the loop.
RESEARCH
Are you a Kandel, Elion, Mukwege or Charpentier? The Sorting Hat will declare your lineage on August 10 from 6–9 p.m.; dinner and games will also be provided. (This event is only for faculty and students.)
Get paid for elevating patient care. The Summit Patient Care Innovation Contest is accepting poster submissions until August 31. Submit your idea (on enhancing patient experiences) for a chance to win up to $10,000! Contact Dr. Bills immediately to register or ask questions.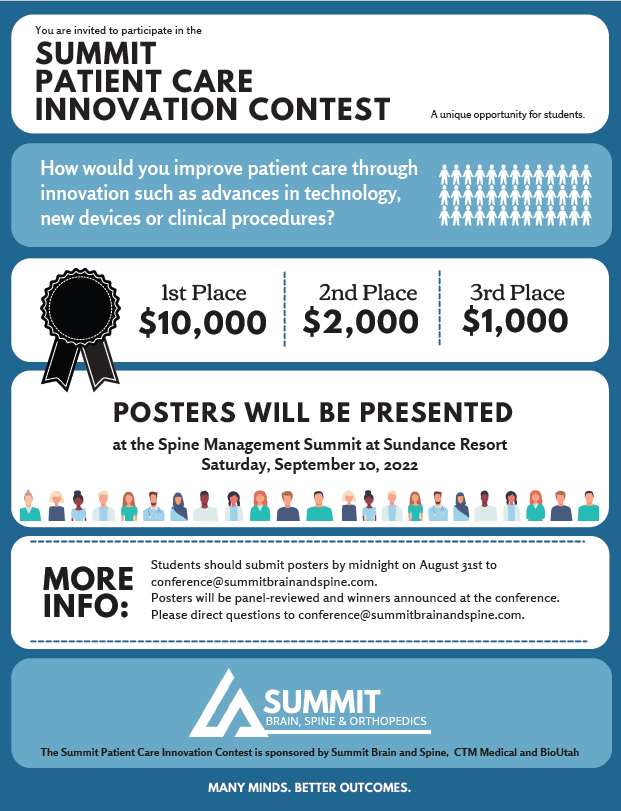 IT
Amboss/Anki: If Amboss is not appearing on your Anki app, try installing it. (Open Anki, click "Tools" from the top menu, and select "Add-Ons." Click "Get Add-Ons" and then paste this code into the text box: 1044112126. Once Amboss loads the list of add-ons, exit Anki, reopen, and login with your Amboss credentials.)
Canvas shortcut: The Canvas shortcut on your Surface Pro's desktop doesn't work; use this URL to access Canvas/your Noorda-COM SSO login.
Examplify: Examplify is now working, any students that had setup issues should be able to finish the installation process.
ExamSoft: You may ignore the setup for this app until further notice.
iHuman: You will not need iHuman until the beginning of September; please wait for further email instruction before setting up the application. (If you want to set up iHuman now, you can click on the iHuman shortcut on your desktop and click "Help! I forgot my account email or password." Enter your Noorda-COM email, and follow additional instructions for a setup link/password.")
Microsoft device registration: IT highly recommends that all students immediately register their device with Microsoft; it makes the repair process much easier. To register your device, click here and select "Register Device." Type in the serial number (located on the back of your Surface Pro, under the stand) to finish the registration process.
Pronto: IT is currently working with Pronto to fix issues, but sometimes, you won't be able to access your assigned courses (on the mobile app or website). (However, some students have had success by clicking on the Pronto link in Canvas.) If that doesn't work, please be patient as they work with Pronto to resolve this issue.
WiFi: When your Surface Pro was set up, it was connected to the Noorda-Guest network. However, some apps (like DynaMed and VisualDx) need an exact IP address to determine whether someone is a student. Thus, you must connect to the Noorda-Student WiFi network so that you can verify your identity, set up certain softwares, and (overall) have a more stable wireless connection.
WELLNESS
Never get FOMO. Join the Wellness eNCOMpass page for details and reminders about wellness events you won't want to miss!
CLINICAL AFFAIRS
Clinical Affairs office hours begin tomorrow, August 2, and are every Tuesday and Wednesday from 1–2 p.m. in the main room of building 1.
For questions about…
Third/fourth year calendars, researching residencies, or application process(es) and items, visit during office hours
Clinicals (credentialing for research with an outside preceptor; rotations, specialty conferences, CiM, outside healthcare affiliations, etc.), email clined@noordacom.org
Immunizations or EXXAT issues, email studenthealth@noordacom.org
FACILITIES
Badges will be ready by Wednesday at the latest! In the meantime, make sure you're parking in delegated Noorda-COM parking (not RMU); cars in the wrong area will be fined.
STUDENT AFFAIRS
Insurance: Waivers are due to HSAC on Sunday, August 31. If you haven't submitted a waiver or it was denied, contact HSAC immediately. Questions? Contact Cary Beasley.
Tuition and fees: If you haven't paid your fall 2022 tuition and fees, please read through our catalog for information about late fees, or answers to general questions.
Free therapy: Starting a new school year can be stressful, but we're here to help! Alex and Marlene offer in-office or virtual therapy resources. [Schedule an Appointment] And don't forget to take advantage of counseling resources through Student Linc.
Discounted UTA passes: For $59/month, you can get unlimited access to UTA buses; Trax, and the Frontrunner. (You will be charged for the entire year upfront, but it's prorated for the first month you sign up.) The pass is good through June 30, 2023; contact Cary Beasley with questions. [Request a Pass]
COVID-19 UPDATES
Can I come to school if I'm sick? Does Noorda-COM monitor the spread of COVID-19? What's the campus vaccination rate? All of these questions and more can be answered through this recent COVID-19 statement.
Additional information and exact policies (on precautions, PPE, vaccines, testing, et.c) can be found in the "Infectious and Environmental Hazards Exposure" policy.
Does Noorda-COM offer antigen testing?
Yes. Rapid antigen tests are available inside the main lobby of Building 1 (Suite 100).
Does Noorda-COM monitor COVID-19 cases?
Noorda-COM has a task force, led by the dean's and president's offices, and composed of staff, professors, and students to monitor the regional and local impact of COVID-19.
What's the campus vaccine rate?
>95% of campus (faculty, staff, and students) is vaccinated.
What should I do if I'm sick?
If you get sick, stay home and scan the back of your badge for instructions on locating testing sites and submitting absence requests.
If you are vaccinated, you must quarantine yourself for seven days. If you aren't, you must stay in quarantine for ten days. (This begins on the day you first became symptomatic.)
Once you begin to improve (no running fever and off of any pain medication), you still must wear a mask on-campus for another seven (if vaccinated) or ten (unvaccinated) days.
Finally, if you've had a COVID infection in the last ten days, are immunocompromised, or have not completed your vaccine series, you must wear a mask indoors and around others.
Helpful information: