Welcome back, Noorda-COM Gnomes –⁠ campus hasn't been the same without you!
If you hadn't noticed, we've got new kicks –⁠ ya dig? Last year's weekly email, the "Round Up," has been rebranded into the Noorda-COM Navigator. This email will have everything you need to know about campus, classes, and all things in-between. (Last year's email ran long, but this'll be more concise.) And while you're settling in, don't forget:
We're on Instagram and Facebook: Follow us to see more photo-filled highlights of life at Noorda-COM!
Watch where you're parking: Some students have parked in RMU spots. Our parking areas have changed slightly, so keep an eye out for parking signage!
RESEARCH
Support your new housemates and enjoy dinner + games at the Research House Sorting Night on August 10, 6–9 p.m. (This event is only for faculty and students.)
Get paid for elevating patient care. The Summit Patient Care Innovation Contest is accepting poster submissions until August 31. Submit your idea (on enhancing patient experiences) for a chance to win up to $10,000! Contact Dr. Bills immediately to register or ask questions.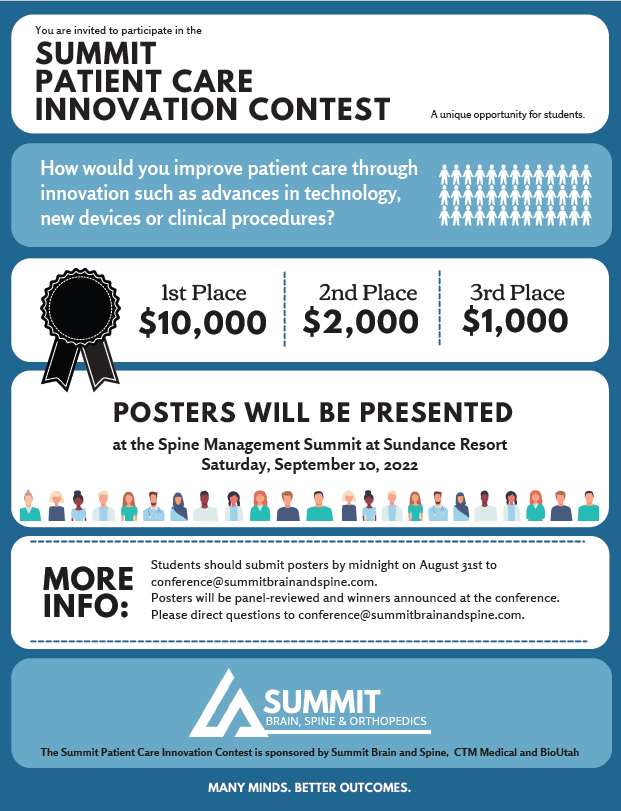 WELLNESS
Never get FOMO. We know you're the experts in all things Noorda-COM now. But, if you aren't in the loop, then join the Wellness eNCOMpass page and send your family a link for The Village.
ACADEMIC AFFAIRS
Here's the OMS II review schedule for Thursday, August 4:
Dr. Kriak: 8–9:10a
Dr. Bahri: 9:10–9:55a
Bathroom break: 9:55–10:05a
Dr. Jimenez: 10:05–10:30a
Clinical Affairs: 10:30–11a
Dr. Akunyili (quiz questions): 11a–12p
CLINICAL AFFAIRS
LCM Course: Don't forget to look at your LCM Teams Group and watch the videos on the general page. (Also, look over the calendar(s) and welcome sheet under the Files tab.)
And, if you need to trade shifts, remember: you can only trade within your group
Professionalism: You are the face of Noorda-COM, and are our first-ever interaction with community preceptors. Don't stress it, but work hard to make a good impression!
Never ask to go home early (it's okay to leave if your preceptor voluntarily tells you that you may leave)
Pay attention to workflow, bedside manner, office-staff interactions, etc.
Don't ask questions about patients or their assessment/treatment. However, questions are acceptable if the preceptor starts teaching, or if you have questions about charting an encounter.
Badges:
Your badge does not give you free reign of the hospital. You have been granted select security access to follow your preceptor; cameras will record scribes that travel outside of their preceptor's path.
Your Intermountain badges and time cards are ready! Pick them up at building 5 (where Student Affairs used to reside).

Problems with your badge or login? Email clined@noordacom.org.
Office hours: ClinEd's office hours start on August 2, and are every Tuesday and Wednesday from 1–2 p.m. in the main room of building 1.
Elective Courses: There's two fall and spring electives to consider: Leadership in Health Promotion (IDIS 204e) and an MSK (101e) Ultrasound course.
IDIS 204e (0.5 credits) helps students understand the traits of being a successful leader in healthcare, and the MSK ultrasound course (1 credit) teaches the foundational elements of ultrasound. Click here for more detailed course descriptions, information about pre-requisites, or to request an elective. Questions? Contact Dr. Rhodes.
Leadership in Health Promotion (IDIS 204e) – 0.5 credits
Leadership in Health Promotion course provides the student with an overview of qualities that help healthcare leaders be successful, including: relationship building, critical thinking, effective communication, strategic thinking and decision-making skills; business ethics, personal values, and more.
Pre-requisites: None
MSK Ultrasound (MSK 101e ) – 1.0 credits
The MSK 101e ultrasound course teaches basic ultrasound principles. In this course, students will learn to perform basic, bedside, or point-of-care (POCUS) ultrasound examinations. The course begins with an overview of ultrasound physics, technology , "knobology." Students will then learn the components of good scanning technique (hand positioning, movement, compression, preset selection, etc.) Additionally, in the MSK 101e lab, students will learn about common uses of beside POCUS.
Pre-requisites: (Successful) completion of OMED104 Structure and Function, CEPA 101, and OMED 102 Intro to OPP
Please note that requested enrollment spots may be limited. In selecting students to participate; there will be eligibility criteria for pre-requisite courses of overall grades of 80% or higher, with no grade on an exam lower than 70%. (The student's 2-digit score should be 50th percentile or higher.) Requests needs to be approved by academic affairs and the faculty.
STUDENT AFFAIRS
Insurance: Waivers are due to HSAC on Sunday, August 31. If you haven't submitted a waiver or it was denied, contact HSAC immediately. Questions? Contact Cary Beasley.
Tuition and fees: If you haven't paid your fall 2022 tuition and fees, please read through their catalog for information about late fees, or answers to general questions.
Free therapy: Starting a new school year can be stressful, but we're here to help! Alex and Marlene offer in-office or virtual therapy resources. [Schedule an Appointment] And don't forget to take advantage of counseling resources through Student Linc.

Discounted UTA passes: For $59/month, you can get unlimited access to UTA buses; Trax, and the Frontrunner. (You will be charged for the entire year upfront, but it's prorated for the first month you sign up.) The pass is good through June 30, 2023; contact Cary Beasley with questions. [Request a Pass]
COVID-19 Updates
Campus COVID-19 Policy: Can I come to school if I'm sick? Does Noorda-COM monitor the spread of COVID-19? What's the campus vaccination rate? All of these questions and more can be answered through this recent COVID-19 policy statement.
Additional information and exact policies (on precautions, PPE, vaccines, testing, et.c) can be found in the "Infectious and Environmental Hazards Exposure" policy.
Does Noorda-COM offer antigen testing?
Yes. Rapid antigen tests are available inside the main lobby of Building 1 (Suite 100).
Does Noorda-COM monitor COVID-19 cases?
Noorda-COM has a task force, led by the dean's and president's offices, and composed of staff, professors, and students to monitor the regional and local impact of COVID-19.
What's the campus vaccine rate?
>95% of campus (faculty, staff, and students) is vaccinated.
What should I do if I'm sick?
If you get sick, stay home and scan the back of your badge for instructions on locating testing sites and submitting absence requests.
If you are vaccinated, you must quarantine yourself for seven days. If you aren't, you must stay in quarantine for ten days. (This begins on the day you first became symptomatic.)
Once you begin to improve (no running fever and off of any pain medication), you still must wear a mask on-campus for another seven (if vaccinated) or ten (unvaccinated) days.
Finally, if you've had a COVID infection in the last ten days, are immunocompromised, or have not completed your vaccine series, you must wear a mask indoors and around others.
Helpful information: